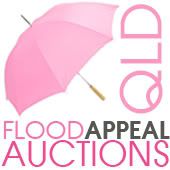 Toni at
Make it Perfect
is putting together a list of bloggers who will be running auctions from their blogs. For more info click in the icon above.
I sit here in disbelief and shock at the horror that my fellow Australians in Queensland are going through. The rain has been falling for 19 days straight. The soaked land just can't cope with that amount of water. Towns that have been unindated with water 2 & 3 times in the last two weeks. Homes destroyed, crops lost, stock drowned. It just wont end. Then there's Tawoomba and all the towns down river. An inland tsunami!! who ever heard of such a thing. Brisbane, the capital of Queensland, will be under water just like 1974 ( the worst flood in history ) or worse.
I can only just begin to understand what they are going through. As a child, like many Australians who live in coastal areas or near rivers, we endured our fair share of floods. Water lapping at the floorboards, cars moved to higher ground, smelly water all around you.That was nothing compared to what these people are going through.
We have had news that everyone we know in the area is safe and dry and they will endevour to help those in immediate need around them.
I wish there was more we could do. I have made our families donation but it just doesn't feel enough.
Watching houses float away on TV, only to find out later that there was still people inside, has had me sobbing. I know it's not about me, but I just feel so sad for all these people.
Leanne : (